Fully Integrated Reliability Analysis and Safety Software
Reliability Analysis Software, ITEM ToolKit is a suite of comprehensive prediction and analytical modules in one integrated environment. ToolKit is an integrated environment benefiting from object-oriented architecture that delivers Accuracy, Flexibility and Ease of Use. It offers you convenient features that provide a consistent format for all your analyses. This enables learning carry-over from one module to another.
ITEM ToolKit has standardized many critical functions, shortcuts, and other features that operate identically in each module to save time and effort, increasing your productivity. Whether you are starting a new analysis or using different modules, the essential functions remain the same. In addition to the standard features, each module functions independently (or linked with others), having its own unique features and functionality.
ITEM ToolKit uses globally recognized standards and methodologies to analyze components, systems, and projects. It allows you to take a total system approach in analyzing individual systems and components. This allows you to optimize your design targets with respect to component selection, increased safety, and reduced liability.
No other reliability analysis tool offers the diverse User Interface as ITEM ToolKit. You can create and analyze multiple systems and projects at the same time, share project files and libraries with other engineers, or departments.
Build and open multiple systems and project files
Build several systems at the same time and compare analysis results
Drag and drop components and systems between projects.
Create a new project quickly by reusing components from other projects
You can analyze Reliability, Availability, Maintainability, Safety and Risk of components or systems and view the entire project.
ITEM ToolKit 's easy-to-use User Interface makes it faster and easier to manoeuvre throughout your project or system. You can view your Project or System information in a tabular grid, dialog box, hierarchy tree, chart or graph. You can also control the size and position of any window with standard Windows functions.
New Project or System data can be added via the hierarchy tree, dialog box, or in tabular grid. Editing is as simple as a click on any of the standard options such as Cut, Copy, Paste, and Drag and Drop.
Advanced Grid / Tabular View
You can add, edit and display the system information and structure in a Grid or "spreadsheet" view. Using filters and adding additional columns, you can customize this view to represent your system as you wish. Use this table as a report by simply dragging the table to Microsoft Excel and share your analysis information with others.
Powerful Chart and Graph Wizard
ITEM ToolKit offers wide variety of charts and graphs for viewing systems and project data in a graph / chart format. You can choose to generate the charts automatically within ITEM ToolKit , or by using the Chart Wizard and Edit Graph functions, generating custom style charts. You can also save chart displays as image files for use in reports, presentations, etc.
Analyze your system once and create multiple, custom libraries containing components and block information, failure modes, cause and effects, events and fault trees. ITEM ToolKit allows you to create and use multiple libraries at the same time. This time saving feature will shorten the time for constructing new systems. The analyzed components, events or blocks can simply be added to a new system by using the drag-and drop or copy and paste feature. Importing data into ToolKit can also refer to the libraries to draw data from them, reducing the amount of information needed in the import source.
Import/Export Facilities
With ITEM ToolKit 's user-defined, powerful import and export facility, you can easily transfer any or all project information to your analysis. Data can move seamlessly to and from Bills of Materials (BOM), Excel, Access, text, and comma delimited file formats. You can also create and save Import and Export templates for repeated use. The result is an incomparable time saving over manual data entry.
Hierarchy Diagrams
Users can interactively construct hierarchy diagrams that represent the structure of a system at various levels. As new components are added to the system, each module automatically calculates and updates all dependent and overall system results.
Choose from a variety of preformatted standard reports or design your own with text, diagrams, or graphs that you can preview or print directly.
Incorporate bitmaps, company logos, and customer logos
Specify column widths, fonts, and colors
Modify existing reports and save as templates for future projects
Easily generate and manipulate diagrams and graphs
Advance Transfer and Link Facility. A Great Time Saver
Eliminate errors and save time from re entering data by transferring data from one analysis to another. Analyze your system under one type of analysis then transfer and link it to another type of analysis. This saves time from recreating the same system under another analysis and it also eliminates errors in re entering the data. For example; create and analyze a system under MIL-217 module and transfer and the same system to FMECA or Fault Tree analysis. The system hierarchy is created effortlessly and all relevant information is transferred and updated every time you change or update your MIL-217 analysis.
Advanced Hybrid Linking and Modeling
ITEM ToolKit's Hybrid Linking and modeling features allows the result of any analysis to be automatically fed into an event in a Fault Tree or a block in a Reliability Block Diagram. This feature is most useful where a simple model cannot determine the event or the failure of a block and a more complex analysis has to be performed.
Information Display Management / Sort Option
Specify exactly what type of information is to be displayed in the project, system, library and diagram windows. View and display as much, or as little, of the detailed information such as part numbers, description, failure rate, MTBF, Unavailability, or simply your analysis results. Sort the information in numerous ways; by name, by part number, by failure rate, by contribution, by category, etc. A great tool for determining and listing items with high failure rates or low MTBF or listing items by part number, etc.
The Most Flexible and Scalable Reliability and Risk Software Application
ITEM ToolKit offers the scalability that every user and organization has in mind. Total integration of ITEM ToolKit allows you to take advantage of one or multiple analyses at the same time. Keeping track of your product life cycle and project management are among the many benefits to such a capable application suite as ITEM ToolKit.
The most flexible and scalable reliability and risk software available
Powerful chart and graph facilities
Build and open multiple systems and project files
User defined custom library facilities
Drag and drop components and systems between projects
Advanced hybrid linking and modeling
Import and export data to Microsoft Excel, Access, Word, Bill of Materials, etc.
Preformatted and fully customizable reports
Information display management and sorting options
Advanced transfer and link facilities
Top-down and bottom-up Design, Process, functional, or system FMEA's supported
Multiple FMEA standards supported: MIL-1629A, ISO 9000, ISO 26262, IEC 61508
Graphically constructed system hierarchy diagrams
Automatic criticality calculations
Redundancy modeling including hot standby
Linked block facility reduces repetitive data entry
6 different Derating standards for prediction
4 different failure rate Allocation models for prediction
Defense Microelectronic Activity (DMEA) support in MIL-217
User defined connection types for MIL-217
Cross-module Linking and Transfer
Global failure model library between Fault Tree, RBD, and Event Tree modules
Time phasing function in Fault Tree
3 different Event Importance measures
Critical Path discovery and cut set ranking by multiple parameters
15 different, universally accepted failure model distributions for Fault Tree, RBD, and Event Tree
Implicit and explicit Common Cause Failure modeling
Dynamic modeling with Markov model linking to Fault Tree and RBD diagrams
ITEM ToolKit consists of the following reliability analysis modules, each of which can be purchased separately or integrated together in any combination:
The MIL-HDBK-217 Module of ITEM ToolKit is a powerful reliability prediction program based on the internationally recognized method of calculating electronic equipment reliability defined in MIL- HDBK-217 (published by the US Department of Defense). This standard uses a series of models for various categories of electronic, electrical and electro-mechanical components to predict failure rates that are affected by environmental conditions, quality levels, stress conditions and various other parameters. These models are fully detailed within MIL-HDBK-217.
The IEC 62380 module supports reliability prediction methods based on the latest European Reliability Prediction Standard. Originally, a French Standard published by the Union Technique de L'Electricite (UTE, July 2000 - RDF). The standard has evolved and become the European Standard for Reliability Prediction (IEC 62380). Its unique approach and methodology has gained worldwide recognition. IEC 62380 is a significant step forward in reliability prediction when compared to older reliability standards.
The IEC-61709 module supports the reliability prediction methods based on the European Prediction Standard IEC-61709. This module is predominantly based on the Siemens Prediction Standard SN-29500, as well as conforming to Section 19 for PCBs and Section 20 for the Hybrid Circuits within the European Prediction Standard IEC-62380 (RDF 2000/UTE C 80-810)..
The Telcordia Software Module of ITEM ToolKit calculates the reliability prediction of electronic equipment based on the Telcordia (Bellcore) TR-332 and SR-332 standards. These standards use a series of models for various categories of electronic, electrical and electro-mechanical components to predict steady-state failure rates which environmental conditions, quality levels, electrical stress conditions and various other parameters affect. It provides predictions at the component level, system level or project level for COTS (Commercial Off-The-Shelf Parts).
The NSWC module of ITEM ToolKit uses a series of models for various categories of mechanical components to predict failure rates based on temperature, stresses, flow rates and various other parameters. Standard procedures for predicting the reliability of mechanical components, sub-systems and systems are defined in the Naval Surface Warfare Center Handbook of Reliability Prediction Procedures for Mechanical Equipment NSWC 11 (98/LE1, 06/LE10).
The China 299B Module of ITEM ToolKit is a powerful reliability prediction program based on the internationally recognized method of calculating electronic equipment reliability provided in the Chinese Military Standard. This standard uses a series of models for various categories of electronic, electrical and electro-mechanical components to predict failure rates that are affected by environmental conditions, quality levels, stress conditions and various other parameters.
FMECA (Failure Mode, Effects, and Criticality Analysis) analyzes potential failure within a system, identifies the potential hazards associated with these failures, and classifies them according to their severity. FMECA addresses reliability and quality problems associated with design, manufacturing, process, safety, and environment. This module provides an intuitive graphical interface with multiple options for constructing and performing an analysis. With an enhanced hierarchy tree and tabular views designed for user-friendly navigation, data entry and modification have never been easier.
The Reliability Block Diagram (RBD) software module offers easy construction of network diagrams using point and click or drag and drop techniques. Once complete, Boolean Algebra expressions are used to determine minimal cut sets or the minimum combination of failures required to cause a system failure. As well as 15 built-in failure models, Markov models can be used for standby systems with respect to maintenance arrangements. RBD calculates system failure frequency and unavailability.
ITEM ToolKit's Fault Tree module offers flexible, powerful and easy ways for constructing Fault Trees. The GUI consists of menus, toolbars, and project and system windows. You can simply add different gates and events in the System Window to create a hierarchy of your system, ITEM ToolKit will construct the Fault Tree Diagram for you. Or, you can build your Fault Tree the traditional way by adding gates and events in the Diagram Window. The software incorporates two independent calculation engines: Binary Decision Diagram and Approximation Method. It provides methods to calculate unreliability and unavailability; analyzes Uncertainty and Sensitivity; analyzes Common Cause Failure (CCF); Produces Minimal Cut Sets; Identifies Fault Tree Sequencing, Initiator and Enabler, Initiator Only, Enabler Only; Defines event failure models; Determines the importance of elements in a system.
The Event Tree analysis module uses logic diagrams and consequences to determine the path from an initiating event to the various consequences, and the expected frequency of each consequence. Cut set and other important analysis results can be displayed and reported in several different ways.
Markov analysis is a powerful modelling and analysis technique with strong applications in time-based reliability and availability analysis. The reliability behaviour of a system is represented using a state-transition diagram, which consists of a set of discrete states that the system can be in, and defines the speed at which transitions between those states take place. Markov models consist of comprehensive representations of possible chains of events, i.e. transitions within systems which, in the case of reliability and availability analysis, correspond to sequences of failures and repair.
The Maintainability module of ITEM ToolKit provides an integrated environment for predicting the expected number of hours that a system, or a device, will be inoperative, or "down", while it undergoes maintenance, based upon the tasks needed to repair the system. A comprehensive design tool for calculating MTTR, MainTain conforms to maintenance standards established in MIL-HDBK-472, Procedure V, Method A.
The Spares Scaling and Ranging (SpareCost) module of ITEM ToolKit calculates spares required for equipment supported at sites and bases; enabling you to optimize the scale of spares at sites for minimum cost. It works to algorithms derived for the Ministry of Defence: Optcost and Repstock.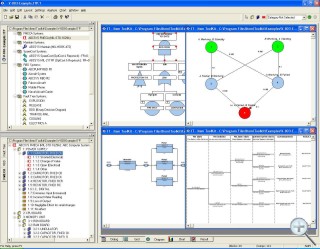 > Suite of 13 Prediction and Analytical Modules
> 6 Different Reliability Predition Modules
> Fault Tree and Event Tree Analysis Modules
> Reliability Block Diagram Analysis Module
> Failure Mode, Effects, and Criticality Analysis
> Analyze Components, Systems, and Projects
> Drag and Drop Components Between Projects
> Advanced Hybrid Linking and Modeling
> Open Multiple Systems and Project Files
> Powerful Chart and Graph Wizard
> User Defined Custom Libraries
> Fully Customizable Reports