Failure Mode, Effects and Criticality Analysis
Not being able to identify your design flaws, failures in manufacturing or processes could result in costly repairs, warranty costs, production delays, catastrophic failures, and even loss of life.
Organizations perform Root Cause Analysis to identify and eliminate severe malfunction and potential failures from products and production processes. An inductive approach or procedure often serves as a design aid to identify and prevent catastrophic failures. The need to determine the effect of system and equipment failure becomes more evident and urgent.
FMECA (Failure Mode, Effects, and Criticality Analysis) analyzes potential failure within a system, identifies the potential hazards associated with these failures, and classifies them according to their severity. FMECA addresses reliability and quality problems associated with design, manufacturing, process, safety, and environment.
There are many published approaches to performing a FMECA. ITEM ToolKit supports the following:
MIL-STD-1629a
IEC-61508 FMEDA
ISO9000/QS9000
ISO 26262
BS 5760 Part 5
SAE ARP4761
SAE ARP5580
SAE J1739
The use of the FMECA module is not limited to these standards however. Your specific FMECA needs can easily be modeled.
During a FMECA procedure, identifying the failure modes and their effects (Failure Mode Effect Analysis) is often only the beginning. Criticality Analysis is where the failure modes are ranked according to a combination of severity and the probability of that failure mode actually occurring. ITEM ToolKit provides total flexibility for applying FMECA to the two-part analysis and much more.
The ITEM ToolKit FMECA module provides an intuitive graphical interface with multiple options for constructing and performing an analysis. With an enhanced hierarchy tree and tabular views designed for user-friendly navigation, data entry and modification have never been easier. The FMECA module provides a coherent, comprehensive method for entering data.
The FMECA Module also provides a phrase library facility containing commonly used descriptions of component parts, failure modes and effects. These greatly speed up data entry and have the added benefit of keeping common phrases consistent. Phrases in this library may be customized to suit your own requirements.
The FMECA Module also includes a failure mode and apportionment library, derived from MIL-HDBK-338, which allows you to create commonly used component and failure mode groupings. The apportionment library can either be used when manually creating FMECAs or to automatically create failure modes and apportionments when transferring data from ITEM ToolKit's Prediction modules. This capability can dramatically reduce analysis times making you more productive.
The FMECA Module now incorporates a fully integrated IEC 61508 FMEDA analysis. An IEC 61508 conforming quantitative FMEDA (Failure Mode, Effects and Diagnostics Analysis) is only a few mouse clicks away.
ITEM ToolKit FMECA software provides unique features that allow you to quickly and accurately perform your Failure Mode, Effects, and Criticality Analysis, data management, reporting, analytical facilities and much more.
FMECA software assigns Risk Priority Numbers as needed
Graphically constructed system hierarchy diagrams
User-definable data fields and sort facilities
Failure Effects & Severities traced through to system hierarchy
Automatically assigned severity values
User-definable severity category and Matrix
Automatic criticality calculations
Multiple failure effects permitted for a single failure mode
Effects may be defined on any higher-level sub-system
Libraries of components with predefined modes and apportionment
Optimization of design to meet acceptable failure modes and severity
Assignment of IEC "dangerous" versus "safe" at the functional End Effects level
Regressional top down analysis assigning safe vs. dangerous severity to root modes
Evaluation of multiple severity assignment by a "split and hit" algorithm
Independent IEC analysis algorithm for the functional end effects of the FMEDA
Hardware oriented component level DC and SFF
Automatic calculation of lambda-SU, SD, DU and DD per each root mode
Consideration of non propagating root modes in component DC and SFF
Cut set analysis at each intermediate nodal point of the FMEDA
Automatic transfer from FMEDA to FTA with failure model and inspection interval
End-effect trace down to root causes
Automatic calculation of lambda-Su, lambda-SD, lambda-DU and lambda-DD, per each root mode
Hardware oriented component level Detectability Coverage and Safe Failure Fraction
Evalutaion of multiple severity assignment by a 'split by hit' algorithm
Assignment of IEC 'dangerous' versus 'safe' at the functional end effects level
Optimization of design to meet acceptable failure modes and severity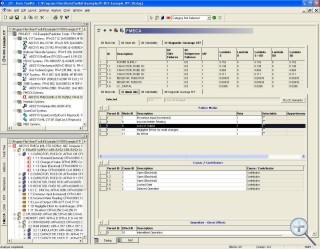 > FMECA Software
> Supports ISO 26262
> Supports IEC 61508 FMEDA
> Phrase and Failure Mode Facilities
> Apportionment Library Facilities
> Automatic Criticality Calculations
> Graphical System Hierarchy Diagrams
> One of Thirteen ITEM ToolKit Modules
> Extensive Reporting and Charting Facilities